Congratulations on demonstrating the commitment and motivation to elevate your presence and competency as a Coach!

This program qualifies for Continuing Coach Education (CCE) units as indicated below.
7.5 CCE Core Competency Credits for


4.5 Resource Development Credits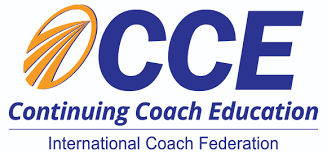 "People will forget what you said, people will forget what you did, but no one will ever forget how you made them feel."
Pulitzer Prize Winner Maya Angelou
Whether you are a new coach seeking your first credential, an existing coach renewing one or a current coach wanting to grow your understanding and application of the coaching framework, this program has been created with you in mind!
ABOUT THIS PROGRAM

As coaches it is easy to stray so far into the coaching process that we become less mindful of the integration of the competencies in creating the total experience. This program provides an immersion in the coaching mindset as it best serves your client throughout each session. Together we will take a deep dive into exploring and cultivating our coaching mindsets to ensure optimal meaning within every coaching interaction.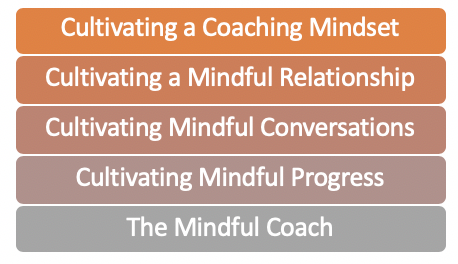 THIS EXPERIENCE
As your mentor coach I will walk alongside you on your journey towards achieving the highest standard of coaching, which will enable you to guide those you are called to serve on a professional and personally rewarding experience.
You will share this journey with other like-minded coaches who, like yourself, are challenging themselves to climb higher in life and business. You will learn, grow, and support each other while forming new friendships within the cohort. Why go it alone?

The group sessions will be conducted via Zoom video conference sessions. The group sessions will be held over a two week period and will be 90 minutes in duration. There will be plenty of time to practice with one another. and give and receive feedback. Throughout the program guidance and support is provided to foster individual growth and potential.
IMMERSIVE LEARNING

THIS PROGRAM INCLUDES
5 - 90 minute group coaching sessions

One Personal Reflection Guide

Interactive and immersive learning experience among other like-minded coaches

Support in navigating the credentialing process for those who request it

Transformational personal development

Personal instructor access for the duration of the program
THIS PROGRAM IS FOR YOU IF...
You want to step away from process and into mindset to cultivate more meaningful coaching interactions

You want to up-level your capabilities as a new or existing coach

You are in the process of submitting your application for your ACC or PCC credential

You are preparing to take the ICF Coach Knowledge Assessment

You want to master the application of the coaching competencies and framework
HOW I HELP YOU
Making a decision to become a coach has changed my life. The rigorous coaching certification program was a journey in itself and afforded me the opportunity to further connect with my life purpose of serving others. I have learned that coaching is less about process and more about putting it to work for others, enabling people to get out of their head and into their heart, where things matter.
As a life-long educator, being part of someone else's growth has always motivated me. I am passionate about immersing others in the coaching experience, challenging them to explore insights that lead to action. It is in this space that they find the motivation to cultivate meaningful change which leads to sustainable growth. Once the spark is ignited there is no stopping the momentum.
I am grateful to have obtained my PCC credential and excited over being part of an internationally recognized discipline guided by a code of ethics. I have coached hundreds of leaders, coaches and potential coaches, serve as a local ICF Community Group leader and am a Feedback Coach for an ICF ACTP Coach Certification program.
Those I work with continually seek me out for advice and support, remarking on my listening, authenticity and deep desire to truly help. I am ever grateful to be involved in a such a humbling profession that is only limited by the number of lives one can touch.
For further insights I welcome you to contact me personally at 908-229-0553.
UPCOMING PROGRAM
Dates: June 15, 17, 19, 22, 24, 26 (Bonus Practice Day)
Time: 12noon – 1:30 pm EST
YOUR INVESTMENT
Full program available for $497.00

SPECIAL PRICING: INTERNATIONAL COACHING WEEK - $297.00

$50.00 per session for group coaching amongst peers!

Includes 9 hours of immersive learning

One Reflection Guide

In-depth dive into the coaching competences

Lots of practice and application


Feedback from coaches and peers

Freedom to step away from process and into mindset
Meet Your Instructor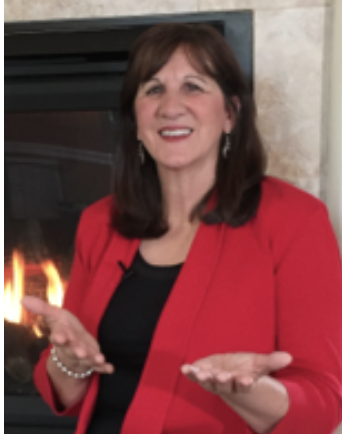 Passionate and Motivated ICF PCC Coach Igniter!

I am passionate about the potential coaching has on positively impacting the world and I am motivated by the potential of igniting the sparks that will enable new and existing coaches to ignite growth and hope in others.
I possess an innate ability to help people discover and apply their core potential and make progress towards their vision by considering possibilities in their lives and connecting with opportunity amidst ongoing change and uncertainty.
As a learning innovator and head of a corporate university for 25 years, I cultivated the knowledge and skills needed to help others grow. My background in learning and development has enabled me to synthesize and systematize information and knowledge to ensure applicability and practicality in the real world.
Although I have had the opportunity to engage in thousands of conversations with a variety of people, from executive leaders to frontline workers, I never experienced the sheer power and value of a good coaching conversation and its impact on changing lives by producing sustainable results.
I have had the distinct privilege to work with hundreds of coach candidates in a recognized ICF ACTP education program. These interactions have planted the seeds for the cultivation of this program as I realized the ongoing support needed on the journey to obtaining and upholding the valued ICF credentials.
Whether you are a business with a strategic focus, a professional looking to transition to the next level, or someone looking to jumpstart your business or your life, I am committed to your growth and transformation and look forward to engaging with you soon!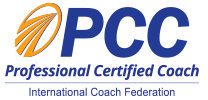 Frequently Asked Questions
How do I access course materials?
All materials for this program will be posted and housed within this learning portal and will be made available until December 31, 2019.
How does the group coaching differ from the individual coaching differ?
During the group coaching sessions you will receive live feedback on your coaching sessions from both mentor and peer coaches.
What value does this program add to preparing to take the ICF CKA-Coach Knowledge Assessment necessary for credentialing?
The CKA is less about book knowledge and more about mindset, which must be developed rather than studied for. This program will prepare you to approach the test with both the knowledge and mindset needed to ensure a successful outcome.
What happens if I am really struggling within the program?
The bigger the struggle, the greater the learning. You will not only receive individual support during your one-on-one sessions but that of the group as well. We become stronger as we learn and grow together. If additional support is needed all you need to do is ask. I am totally committed to your personal growth and success as a coach.
What can I envision as I complete this program?
Upon completion of this program you will have acquired the confidence you need to approach each coaching engagement with a mindset that will enable others to thrive as a result of the experience you co-create.
What is the value to your customers?
This mindset growth is invaluable to those you serve. Although they may not expect it, customers will look upon coaching not as a time bound session rather a feeling they leave with that enables them to thrive in work and life in ways they never imagined.
What is Continuing Coach Education (CCE)?
Continuing Coach Education (CCE) refers to training, writing or research in advanced coaching skills directly related to ICF Core Competencies or the professional development of a coach. A CCE Unit (CCEU) is 60 minutes of Continuing Coach Education. For CCE Providers, this must involve voice-to-voice contact with an instructor. The following training methods count as CCE units: in-person classes, live teleclasses, live webinars, individual or group coaching observation or mentoring with an instructor present.
Who do I contact to learn more?
I would be happy to answer all your questions before, during and after the program, Contact me at 908-229-0553 or
[email protected]
Does this program count towards ICF CCE Continuing Coach Education?
This program counts for 7.5 CCE Core Competency Units and 4.5 Resource Credits